Smart APP control WiFi Wireless Gas Detector Alarm Sensor Gas Leakage Sensor Natural gas leak detector (White)
$54.00
Don't let this happen to your loved-ones or property!
New Jersey gas leak explosion 2016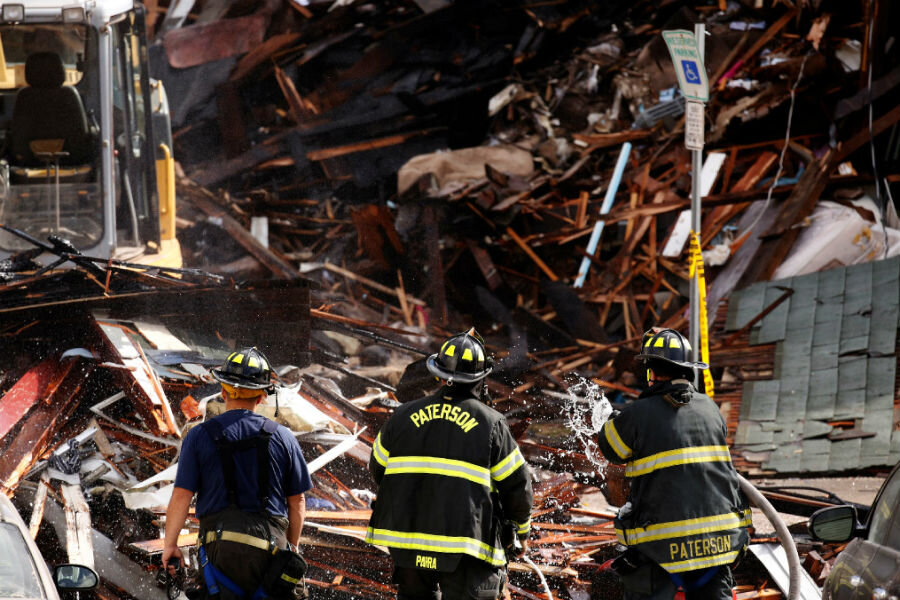 Wifi APP Remote Control LCD Display Household Combustible Gas Leak Sensor Detector NG/LPG  Alarm
Overviw:


The product is a smart combustible gas detector with sound prompt alarm, supporting display of the gas concentration. When trigger the gas detector, it will alarm with build-in siren. This detector adopt semiconductor sensor which is stable and reliable. It keeps the place safe from the threats of combustible gas (such as liquefied petroleum gas, natural gas, methane, etc.). It's widely used in kitchen, living room, garage, shopping mall, hotel, restaurant, office building, school, bank, library, computer house and storehouse etc. where has no water vapor and has threats of combustible gas.




Features: 


*LCD Screen Clearly Shows: Easy-to-read and clearly digital display shows combustible gas concentration and WIFI signal.
*Natural Gas & LGP Detect: This gas detector mainly used in kitchen to detect the natural gas (Methane) and LPG (Liquefied Petroleum Gas) leakage, prevent the potential gas explosion and protect family safety.
*85dB Alarm Sound & APP notification: When the gas concentration value reaches 8% LEL, the detector will issue 85dB alarm sound and push notification to APP automatically.
*WiFi connection, smart APP remote control. With manually test, manually mute. To temporarily mute the alarm in the gas alarm state.
*New Design and Easy-to-install: The plug-in designs makes it easy and super convenient to installation.




Specifications: 


Input voltage: DC 5V (micro USB interface)
Working current: ≤350mA 
Response time: ≤30s
Alarm Sound: ≥85dB
Installation type: wall or celling mounting
Air pressure: 86~106Kpa
Working Temperature: -10°C~60 °C
Work Humidity: ≤80%RH, no freezing
Item Size: Approx. 10.2 * 10.2 * 3.5cm (L*W*H)
Item Weight: Approx. 143g / 5oz

1* WIFI+APP Gas Detector
1* Bag of Mounting Screws
1* EU Power Adapter
1* User Manual
Smart APP control WiFi Wireless Gas Detector Alarm Sensor Gas Leakage Sensor Natural gas leak detector (White)
Smart APP control WiFi Wireless Gas Detector Alarm Sensor Gas Leakage Sensor Natural gas leak detector (White)
Description

Don't let this happen to your loved-ones or property!

 

New Jersey gas leak explosion 2016


Wifi APP Remote Control LCD Display Household Combustible Gas Leak Sensor Detector NG/LPG  Alarm

 

 

Overviw:


The product is a smart combustible gas detector with sound prompt alarm, supporting display of the gas concentration. When trigger the gas detector, it will alarm with build-in siren. This detector adopt semiconductor sensor which is stable and reliable. It keeps the place safe from the threats of combustible gas (such as liquefied petroleum gas, natural gas, methane, etc.). It's widely used in kitchen, living room, garage, shopping mall, hotel, restaurant, office building, school, bank, library, computer house and storehouse etc. where has no water vapor and has threats of combustible gas.  





Features: 


*LCD Screen Clearly Shows: Easy-to-read and clearly digital display shows combustible gas concentration and WIFI signal.
*Natural Gas & LGP Detect: This gas detector mainly used in kitchen to detect the natural gas (Methane) and LPG (Liquefied Petroleum Gas) leakage, prevent the potential gas explosion and protect family safety.
*85dB Alarm Sound & APP notification: When the gas concentration value reaches 8% LEL, the detector will issue 85dB alarm sound and push notification to APP automatically.
*WiFi connection, smart APP remote control. With manually test, manually mute. To temporarily mute the alarm in the gas alarm state.
*New Design and Easy-to-install: The plug-in designs makes it easy and super convenient to installation.




Specifications: 


Input voltage: DC 5V (micro USB interface)
Working current: ≤350mA 
Response time: ≤30s
Alarm Sound: ≥85dB
Installation type: wall or celling mounting
Air pressure: 86~106Kpa
Working Temperature: -10°C~60 °C
Work Humidity: ≤80%RH, no freezing
Item Size: Approx. 10.2 * 10.2 * 3.5cm (L*W*H)
Item Weight: Approx. 143g / 5oz

 


1* WIFI+APP Gas Detector
1* Bag of Mounting Screws
1* EU Power Adapter
1* User Manual