Smart Projector, D5S, Android 7.1 (2G+32G) WIFI, Bluetooth, HDMI, Home Theater Mini Projector
$319.00
Use:Entertainment Projector;
Type:Digital Projector;
Brand Name:AUN;
Ansi Lumens:200 ANSI Lunmes;
System:Android;
Plug Type:UK Plug;
Plug Type:US Plug;
Plug Type:AU Plug;
Plug Type:EU Plug;
Keystone Correction:Auto Correction;
Keystone Correction:None;
Optical Resolution:854x480dpi;
Contrast Ratio:2000:01:00;
Brightness:2000 Lumens;
Power:6W;
Projective Mode:Throwing;
Home Theater Projector:No;
Light Source:Led Light;
Portable:Yes;
Projection Technology:DLP;
Projection Distance:0.35-3.5m;
Zoom:None;
Screen Scale:16:09;
Model Number:D5/D5s;
Projected Dimension:35-120 inches;
Projected Dimension:0.265KG;
Weight:0.265KG;
Weight:0.265KG;
system:D5(Multimedia), D5S(Android 7.1);
Wireless:D5S(WIFI, Bluetooth);
D5S Memory:1GB DDR3 / 8GB;
D5S CPU:RK3128 Quad Core;
Battery:4500mAH;
Audio Formats of D5:MP3, WMA, AAC;
Audio Formats of D5S:MP3, WMA, AAC, AC3;
D5:None Keystone Correction;
D5S:Auto keystone Correction;
interface:USB, HDMI, Audio, TF Card, DC;
D5 / D5s Parameter
---
System
D5 (white)

D5s (Black)

System:Multimedia Playing System

(None Keystone Correction)

System:Android 7.1

WIFI: Yes

Bluetooth: Bluetooth 4.0

CPU: RK3128, Quad Core

Memory: RAM 1G, ROM 8G (Optional 2G+16G / 2G+32G)
---
Optical Parameters
Light engine: DLP 0.3" DMD
Brightness: 200 ANSI lumens
Contrast Ratio: 2,000:1
Resolution: 854*480 (WVGA)  Support to 1080P
---
Battery
 5,000 mAH lithium battery ( Power Upgrade ) 
Support charging for phone
Connectivity
USB x 1 (D5s USBx2)
HDMI input x 1
Audio output x 1
TF Card x 1
DC-in x 1
Power on/off button
---
Projection
Projector size: 30-120 inch
Projector distance: 0.3m-3.5m
---
Dimensions
Device: 145 x 79 x 18mm / 5.8 x 3.1 x 0.7in
Weight: 260g
---
Package Contents
Projector x 1
Holder x 1
Remote Control x 1
Please download the user manual on AUN website
---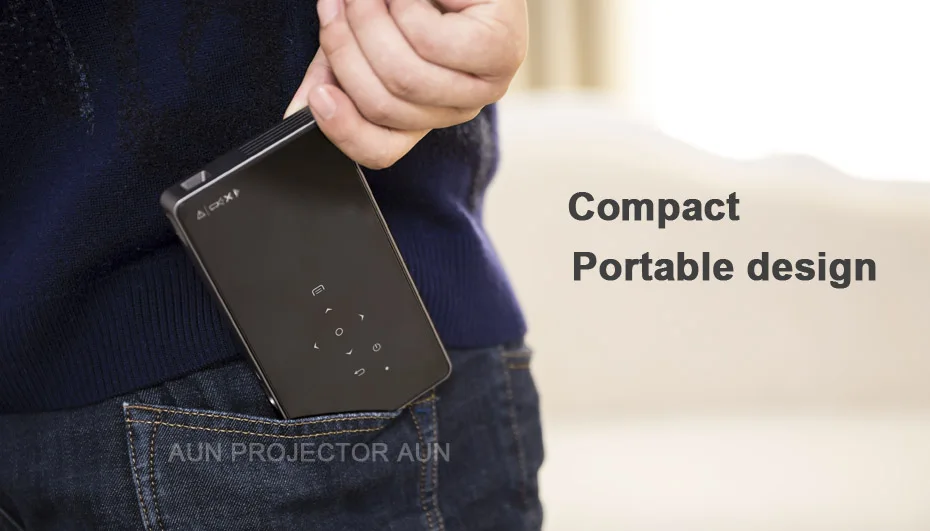 Easy To Build Your Theater
any where, any time. As you wish Willing. Offer a variety of solutions for you
There 2 Versions for Your Choice
D5 Build in Multimedia System, D5S Android 7.1
 Note: D5S have 3 Versions
(Versions 1: 1G RAM+8G ROM, Versions 2: 2G RAM+16G ROM, Versions 3: 2G RAM+32G ROM)
Compact & Super Slim
Portable and convenient. Only 0.26kg.
D5S 

Updated Version Android 

7.1

 System
You can surf the Internet, watch online video, play Android game, online shopping and do presentation.
D5S

 Build in WIFI (Screen Mirroring) and Bluetooth
Support sync phone screen to projector through WIFI, Support bluetooth speaker through Bluetooth.
D5S

 Build in +/- 40 Auto Keystone Correction
Meeting all bad using environment(Tips:Under the HDMI none)
Built-in 5,000

 

mAH lithium battery 
 Please charge within 5V 3A safe voltage, otherwise the projector will be damaged
Provides charging for phone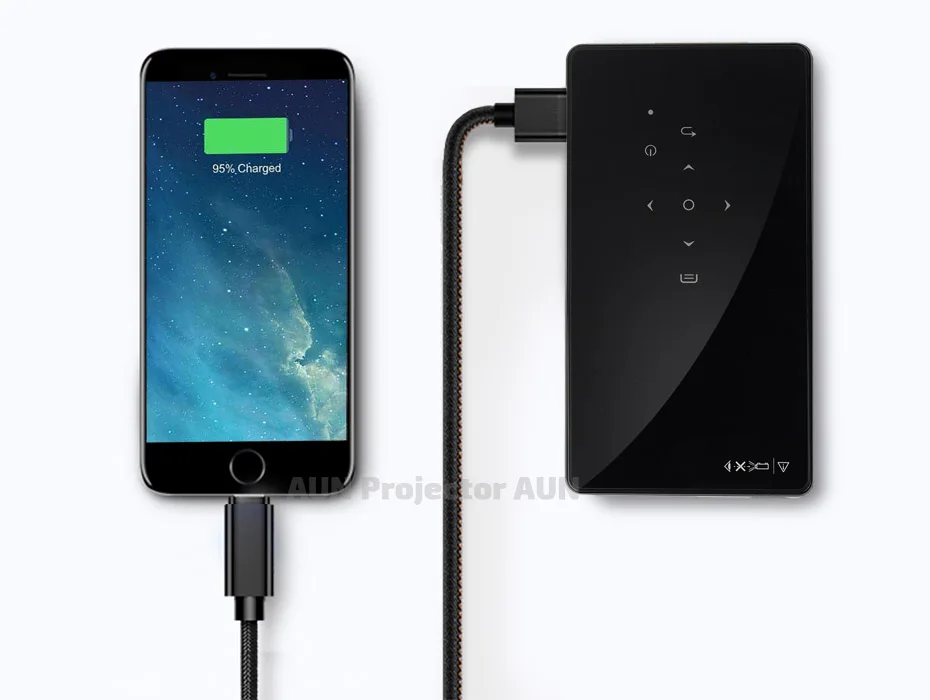 D5 

Support wired Screen Mirroring
You can sync phone screen to projector through only USB cable.
DLP Display Technology
Creates vivid visual effects and color saturation. and longer life time.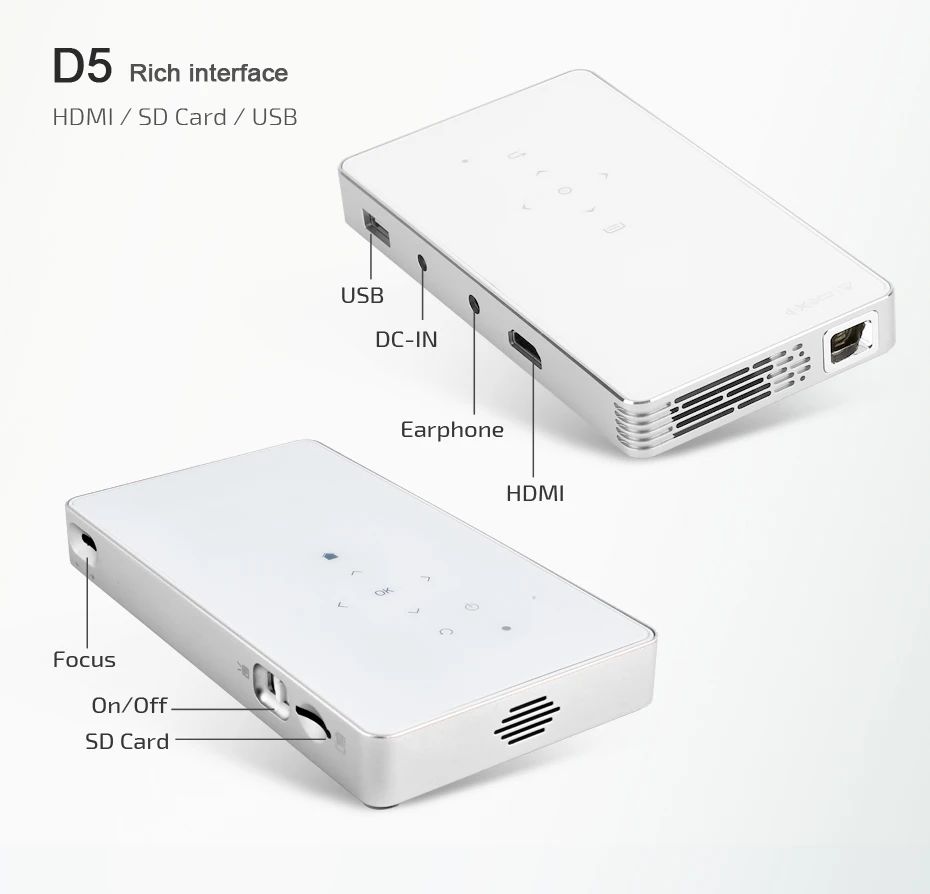 Throw Ratio
Super large projection size bring you amazing watching
Smart Projector, D5S, Android 7.1 (2G+32G) WIFI, Bluetooth, HDMI, Home Theater Mini Projector
Smart Projector, D5S, Android 7.1 (2G+32G) WIFI, Bluetooth, HDMI, Home Theater Mini Projector
Description

Use:Entertainment Projector;

Type:Digital Projector;

Brand Name:AUN;

Ansi Lumens:200 ANSI Lunmes;

System:Android;

Plug Type:UK Plug;

Plug Type:US Plug;

Plug Type:AU Plug;

Plug Type:EU Plug;

Keystone Correction:Auto Correction;

Keystone Correction:None;

Optical Resolution:854x480dpi;

Contrast Ratio:2000:01:00;

Brightness:2000 Lumens;

Power:6W;

Projective Mode:Throwing;

Home Theater Projector:No;

Light Source:Led Light;

Portable:Yes;

Projection Technology:DLP;

Projection Distance:0.35-3.5m;

Zoom:None;

Screen Scale:16:09;

Model Number:D5/D5s;

Projected Dimension:35-120 inches;

Projected Dimension:0.265KG;

Weight:0.265KG;

Weight:0.265KG;

system:D5(Multimedia), D5S(Android 7.1);

Wireless:D5S(WIFI, Bluetooth);

D5S Memory:1GB DDR3 / 8GB;

D5S CPU:RK3128 Quad Core;

Battery:4500mAH;

Audio Formats of D5:MP3, WMA, AAC;

Audio Formats of D5S:MP3, WMA, AAC, AC3;

D5:None Keystone Correction;

D5S:Auto keystone Correction;

interface:USB, HDMI, Audio, TF Card, DC;

 

 

 

 

  

D5 / D5s Parameter

---

System

D5 (white)

D5s (Black)

System:Multimedia Playing System

(None Keystone Correction)

System:Android 7.1

WIFI: Yes

Bluetooth: Bluetooth 4.0

CPU: RK3128, Quad Core

Memory: RAM 1G, ROM 8G (Optional 2G+16G / 2G+32G)

---

Optical Parameters

Light engine: DLP 0.3" DMD

Brightness: 200 ANSI lumens

Contrast Ratio: 2,000:1

Resolution: 854*480 (WVGA)  Support to 1080P

---

Battery

 5,000 mAH lithium battery ( Power Upgrade ) 

Support charging for phone

 

Connectivity

USB x 1 (D5s USBx2)

HDMI input x 1

Audio output x 1

TF Card x 1

DC-in x 1

Power on/off button

---

Projection

Projector size: 30-120 inch

Projector distance: 0.3m-3.5m

---

Dimensions

Device: 145 x 79 x 18mm / 5.8 x 3.1 x 0.7in

Weight: 260g

---

Package Contents

Projector x 1

Holder x 1

Remote Control x 1

Please download the user manual on AUN website

---

 

 

 

 

 

 

Easy To Build Your Theater

any where, any time. As you wish Willing. Offer a variety of solutions for you

 

 

 

 

 

There 2 Versions for Your Choice

D5 Build in Multimedia System, D5S Android 7.1

 

 

 

 

 

 Note: D5S have 3 Versions

(Versions 1: 1G RAM+8G ROM, Versions 2: 2G RAM+16G ROM, Versions 3: 2G RAM+32G ROM)

     

 

Compact & Super Slim

Portable and convenient. Only 0.26kg.

 

 

 

 

D5S 

Updated Version Android 

7.1

 System

You can surf the Internet, watch online video, play Android game, online shopping and do presentation.

 

 

 

 

 

D5S

 Build in WIFI (Screen Mirroring) and Bluetooth

Support sync phone screen to projector through WIFI, Support bluetooth speaker through Bluetooth.

 

 

 

 

 

D5S

 Build in +/- 40 Auto Keystone Correction

Meeting all bad using environment(Tips:Under the HDMI none)

 

 

 

 

Built-in 5,000

 

mAH lithium battery 

 Please charge within 5V 3A safe voltage, otherwise the projector will be damaged

 

 

 

Provides charging for phone

 

 

 

 

 

 

D5 

Support wired Screen Mirroring

You can sync phone screen to projector through only USB cable.

 

 

 

 

 

DLP Display Technology

Creates vivid visual effects and color saturation. and longer life time.

 

 

 

 

 

 

 

Throw Ratio

Super large projection size bring you amazing watching