Kalimba Thumb Piano 17 Keys
$38.00
Perfect Gift

for the Musically Inclined!
The sound is rich, soothing, calming and absolutely mesmerizing. The sound quality of the incredible Kalimba is just amazing and mesmerizing. Like chimes, bells, the harp, steel drums. Even beginners in playing musical instruments can play beautiful music with the kalimba.

The Kalimba provides a soft melody to each note, so even the wrong notes sound relaxing and beautiful. And a whole variety of sounds can be made depending on how you play. Your whole family will enjoy the soothing plinky sounds it produces. Very rich in tone and the tones hang on to diminish slowly.
If you have a special someone who is in love with all things music, the incredible Kalimba is a great gift for them. It's easy to play with soothing sounds that everyone will enjoy. Kalimba is also a good way to introduce toddlers to music.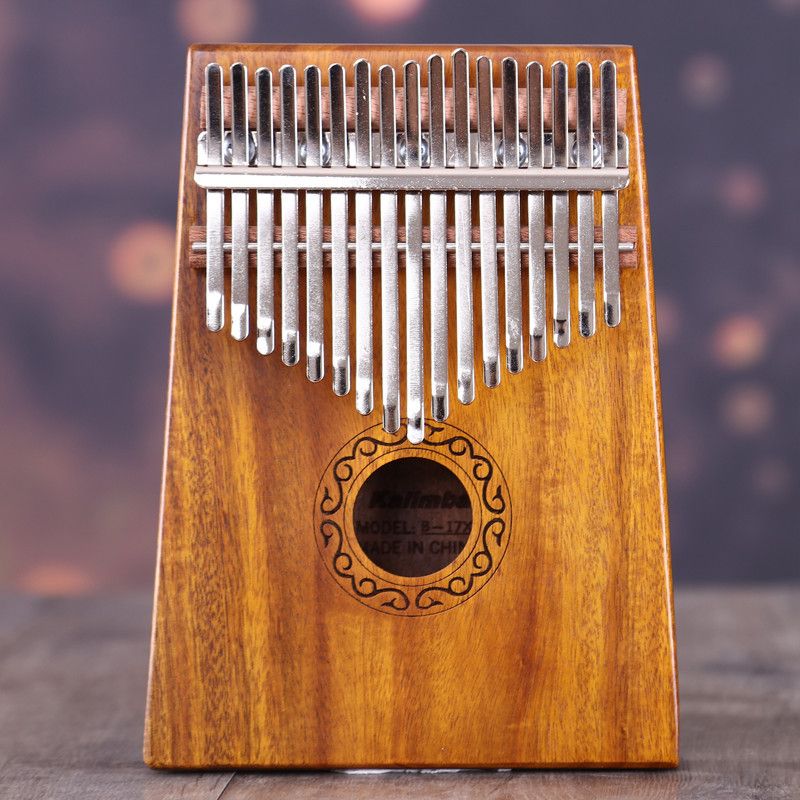 This is definitely a beautifully made instrument
The mahogany wood is beautiful and produces a fantastic sound and makes it a beautiful instrument to look at and to hear.
Fits perfectly and lies well in the hands, easy to hold, very lightweight and very sturdy.
It is aesthetically pleasing, sounds and looks amazing, and is well tuned and all ready to use right out of the box.
Features:
Applicable People: Beginner, High-end Positioning, Home Education
Keyboard Material: Solid Wood
Maximum Polyphony: 16
Number of Keys:17
Number of Tones:17
Weight (kg): 0.263
Package Size: 23.00 x 19.00 x 8.00 cm
Package Contents: 1 x 17 Keys Kalimba, 1 x Learning Book, 1 x Tune Hammer, 1 x Cloth Bag, 2 x Thumb Protector, 2 x Sticker, 1 x Bilingual Instruction (English and Chinese)
Kalimba Thumb Piano 17 Keys
Kalimba Thumb Piano 17 Keys
Description

 

Perfect Gift

for the Musically Inclined!

The sound is rich, soothing, calming and absolutely mesmerizing. The sound quality of the incredible Kalimba is just amazing and mesmerizing. Like chimes, bells, the harp, steel drums. Even beginners in playing musical instruments can play beautiful music with the kalimba.


The Kalimba provides a soft melody to each note, so even the wrong notes sound relaxing and beautiful. And a whole variety of sounds can be made depending on how you play. Your whole family will enjoy the soothing plinky sounds it produces. Very rich in tone and the tones hang on to diminish slowly.

If you have a special someone who is in love with all things music, the incredible Kalimba is a great gift for them. It's easy to play with soothing sounds that everyone will enjoy. Kalimba is also a good way to introduce toddlers to music.



This is definitely a beautifully made instrument
The mahogany wood is beautiful and produces a fantastic sound and makes it a beautiful instrument to look at and to hear.
Fits perfectly and lies well in the hands, easy to hold, very lightweight and very sturdy.
It is aesthetically pleasing, sounds and looks amazing, and is well tuned and all ready to use right out of the box.

Features:

Applicable People: Beginner, High-end Positioning, Home Education
Keyboard Material: Solid Wood
Maximum Polyphony: 16
Number of Keys:17
Number of Tones:17
Weight (kg): 0.263
Package Size: 23.00 x 19.00 x 8.00 cm
Package Contents: 1 x 17 Keys Kalimba, 1 x Learning Book, 1 x Tune Hammer, 1 x Cloth Bag, 2 x Thumb Protector, 2 x Sticker, 1 x Bilingual Instruction (English and Chinese)