Flexistick™ Universal Camera Mount
$35.00
THE MOST FLEXIBLE SELFIE STICK IN THE WORLD.
Imagine this. You found a great location for the perfect group photo during your vacation but you could not find someone to take the photo for you or you don't want someone to miss out. This is where the Flexistick comes in handy. Simply whip out the Flexistick and wrap it onto a sign post, railings or any other objects imaginable and take the perfect photo with your family or friends.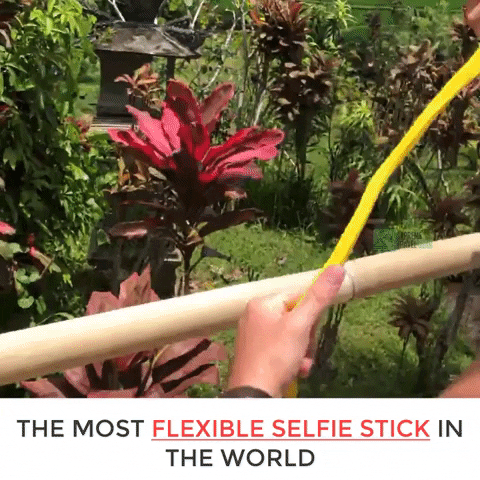 Be ready for a Revolution of photo and video. With Flexistick, you can make every place the perfect location to capture your life. Whether you are a traveler, athlete or blogger – this selfie stick is a game changer!
What is Flexistick?

Flexistick is a selfie stick, monopod, mount & stand all rolled into one pocket-able device.It  is truly a traveler's dream. It is extremely flexible and bendable which makes it easy for you to take the perfect photo anywhere.
Flexistick is made from our patented non slip polyethylene material which ensures the selfie stick maintains a perfect grip on all surfaces and all objects. It can be easily bend, formed and wrapped in any instances. The clamp where you place your smartphone or GoPro is extremely secure and will not wobble. This guarantees that your photos and videos will look crystal clear and smooth. More importantly, you do not have to worry about your devices slipping. The Supreme Flexible Selfie Stick is also constructed with ergonomics in mind. The selfie stick comfortably wraps around your hand ensuring stability and comfort. 
Bluetooth Remote Control!
With the included Bluetooth remote, you now can have the freedom to take photos at longer distances with a single click. Say goodbye to setting up cumbersome tripods on uneven ground or floor which results in ugly or blurry photos. Solo travelers rejoice! Now you will be able to take photos or videos with your phone even from greater distance even when you are travelling alone. Fantastic for taking group shots with your family and friends as well.  
Compatible with iPhones & Android smartphones
Pairing your smartphone with the Bluetooth remote is really simple
Step 1 : Turn the switch on the side of the remote control - off to on . 
Step 2:  Go to your phone's Bluetooth settings. 
Step 3:  Connect to the device " AB Shutter3 ". This is the name of the Bluetooth remote control.
Step 4:  Now go into the camera mode of your mobile phone. Here you select now the desired format - photo or video. 
Step 5:  And now you're ready to go ! Click on the button corresponding to your mobile phone type to trigger the photo or start the video. If you're making a video, end the recording with a second click on the same button. 
Works with Smartphones & GoPro cameras!
Versatility
OutdoorSportAt Home
Car & Bikes
Flexistick™ Universal Camera Mount
Flexistick™ Universal Camera Mount
Description

THE MOST FLEXIBLE SELFIE STICK IN THE WORLD.

Imagine this. You found a great location for the perfect group photo during your vacation but you could not find someone to take the photo for you or you don't want someone to miss out. This is where the Flexistick comes in handy. Simply whip out the Flexistick and wrap it onto a sign post, railings or any other objects imaginable and take the perfect photo with your family or friends.

 

Be ready for a Revolution of photo and video. With Flexistick, you can make every place the perfect location to capture your life. Whether you are a traveler, athlete or blogger – this selfie stick is a game changer!

What is Flexistick?


Flexistick is a selfie stick, monopod, mount & stand all rolled into one pocket-able device.It  is truly a traveler's dream. It is extremely flexible and bendable which makes it easy for you to take the perfect photo anywhere.

Flexistick is made from our patented non slip polyethylene material which ensures the selfie stick maintains a perfect grip on all surfaces and all objects. It can be easily bend, formed and wrapped in any instances. The clamp where you place your smartphone or GoPro is extremely secure and will not wobble. This guarantees that your photos and videos will look crystal clear and smooth. More importantly, you do not have to worry about your devices slipping. The Supreme Flexible Selfie Stick is also constructed with ergonomics in mind. The selfie stick comfortably wraps around your hand ensuring stability and comfort. 

 

Bluetooth Remote Control!

 

With the included Bluetooth remote, you now can have the freedom to take photos at longer distances with a single click. Say goodbye to setting up cumbersome tripods on uneven ground or floor which results in ugly or blurry photos. Solo travelers rejoice! Now you will be able to take photos or videos with your phone even from greater distance even when you are travelling alone. Fantastic for taking group shots with your family and friends as well.  

Compatible with iPhones & Android smartphones

Pairing your smartphone with the Bluetooth remote is really simple

Step 1 : Turn the switch on the side of the remote control - off to on . 

Step 2:  Go to your phone's Bluetooth settings. 

Step 3:  Connect to the device " AB Shutter3 ". This is the name of the Bluetooth remote control.

Step 4:  Now go into the camera mode of your mobile phone. Here you select now the desired format - photo or video. 

Step 5:  And now you're ready to go ! Click on the button corresponding to your mobile phone type to trigger the photo or start the video. If you're making a video, end the recording with a second click on the same button. 

Works with Smartphones & GoPro cameras!




Versatility

OutdoorSportAt Home

Car & Bikes