Stackable Tetris Lamp
$74.99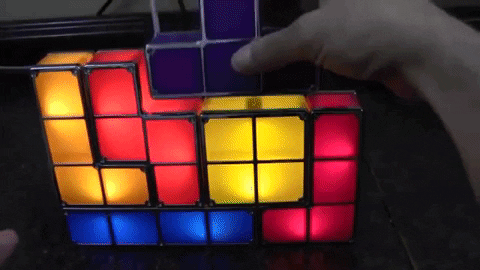 Hey there! Are you a retro game lover? If your answer is yes, then you should get this cool desktop lamp! 
This is a 
Stackable Tetris Lamp 
where you can connect to activate the lights on each pieces!
Decorate Any Room to Your Liking: Makes an attractive decorative piece for any area in your home while also adding a warm glow of light. 

Test Your Creativity: You can get creative with the several different ways of stacking the lamp. Build the light blocks in whatever arrangement that pleases you!
Simple Construction: The pieces connect effortlessly! Simply plug in the blue rod and through conductance the other pieces will light up upon contact with each other!

Energy Efficient:

 

Equipped with LED lighting, switching to this night lamp is an efficient option you can rely on to lower your electricity consumption while also maintaining beautiful lighting decor. 
Product Specifications:
Power Source: AC
Voltage: 90-260V
Light Source: LED Bulbs
Power Generation: Switch
Wattage: 6-10W
Package Includes: 1 x Stackable Tetris Lamp
Stackable Tetris Lamp
Description

Hey there! Are you a retro game lover? If your answer is yes, then you should get this cool desktop lamp! 

This is a 

Stackable Tetris Lamp 

where you can connect to activate the lights on each pieces!

Decorate Any Room to Your Liking: Makes an attractive decorative piece for any area in your home while also adding a warm glow of light. 

Test Your Creativity: You can get creative with the several different ways of stacking the lamp. Build the light blocks in whatever arrangement that pleases you!

Simple Construction: The pieces connect effortlessly! Simply plug in the blue rod and through conductance the other pieces will light up upon contact with each other!

Energy Efficient:

 

Equipped with LED lighting, switching to this night lamp is an efficient option you can rely on to lower your electricity consumption while also maintaining beautiful lighting decor. 

Product Specifications:

Power Source: AC
Voltage: 90-260V
Light Source: LED Bulbs
Power Generation: Switch
Wattage: 6-10W

Package Includes: 1 x Stackable Tetris Lamp